GILE 2022 To Usher In A Bew Era of Lighting
The 27th edition of Guangzhou International Lighting Exhibition (GILE) will take place alongside the 19th Guangzhou Electrical Building Technology (GEBT) at the China Import and Export Fair Complex from 3 – 6 August 2022. Dedicated to advancing the lighting and building sectors, GILE and GEBT will take full advantage of the synergies between different industries. The two exhibitions will bring together 1,288 brands from 13 countries and regions, across 110,000 sqm of exhibition space, including 11 show halls. Under the theme "New Era, New Opportunity", the fair aims to encourage lighting practitioners to forge ahead with their aspirations. With the dynamic changes currently taking place, new opportunities are being presented to the lighting industry. Consequently, encouraging brands to embrace transformation, and reach new milestones in their lighting journeys are key goals espoused by GILE.
On GILE's role within the industry, Ms Lucia Wong, Deputy General Manager of Messe Frankfurt (HK) Ltd said: "GILE shoulders the responsibility of promoting exchanges between different industries, and also undertakes the mission of driving forward the development of the lighting sector. This year's GILE will connect multiple ecosystems including smart lighting, cultural and night tourism and low-carbon technology. In addition, the fair will host over 500 fringe events covering diverse topics, which will encourage industry players to use new ways of thinking to explore new business opportunities."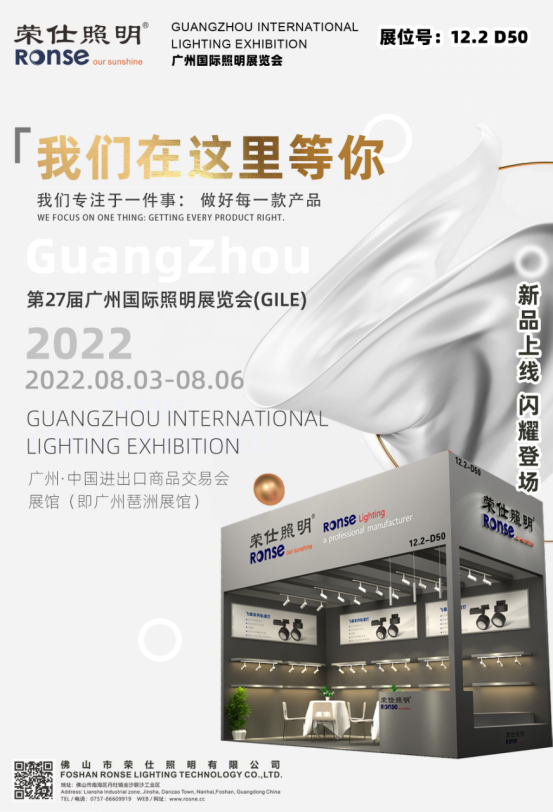 11 show halls will host over 1,000 exhibitors showcasing innovative lighting technologies; Smart-health crossover demonstration pavilion 2.0 (Hall 9.2 & 10.2) Jointly organised by GILE and the Shanghai Pudong Intelligent Lighting Association, the "Smart-health crossover demonstration pavilion 2.0" has doubled in size this year to 20,000 sqm. Participating brands include: Smart lighting applications and solutions, IoT lighting systems and commercial lighting solutions: Allway, Alpha, Arcllux, B&D, CREP, Dilux, eboy, Ecolor, Fcreate Energy, FSL, Gamder, GDLED, Gemstone, Gesung, Go&Sun, Ground-Space, iLamp, INDLEDs, Jiasheng, Jojo Lighting, Judalai, LediFuture, LumiAether, Mason Light, MELAY, New Lights, OML, PAK, Rongweng Kubai, ShineSky, Skyled, Sky-Lighting, Topband, Upshine Lighting, VACE, Warom, Wisva, Xi'an Elite, Yuanzhikang IoT, Yunju, Zemcho, Zhengfeng and ZOHO.
Smart home solutions and smart audio-visual systems: Broadlink, EOGO and Linptech.
Smart lighting control systems and power supply: AiDimming, BOKE, Bright Power Semiconductor, Chuandian, Elite, Gallop, Helvar, Hoion, Inventronics, Kiwi, Lanzhao, Lifud, LTECH, Maxic, Ming Se, OSRAM, Skydance, Sunricher, Signify, Ten Pao, TIGI and Wiki.
Radar and sensors: AirTouch, EasyDetek, Long-join, Merrytek, MoreSense and YuanSheng.
IoT solutions, communication technologies and protocols, IoT chips, IoT core connectors, smart hardware, intelligent gateways, smart electricity usage solutions, semiconductors and integrated circuits: CoolKit, Delta, Ding Ding Safe, EARDATEK, Eonlink, Espressif, EZVIZ, Fullness, Granwin IoT, iLightsln, Insona, ITON, KUJIALE, MXCHIP, Shuncom AIoT, Taolink, TUYA and Zhongneng IoT.
PLC controllers: FN-Link, GSD, Jiapu, Leaguer, MicroNature, Siqi and Wuqi.
Optical technologies: Darkoo, Evercore, Luminus and TongYiFang.
Standardisation and testing authorities: ZHAGA, DEKRA and UL.
From 3 – 5 August, several seminars on smart lighting technology will also be held in hall 10.2. These seminars include:
Plant factory technology session
Industrial hemp spectrum technology session
Horticultural lighting technology session
Breeding lights and aquarium lighting session
Photovoltaic agriculture and healthy lighting session
2022 Light art exhibition (Hall 3.1)

Jointly organised by GILE and Guangzhou Alighting IoT & Technology Co, Ltd, the "2022 Light art exhibition" will take place under the theme of "Meeting with Light". 17 renowned lighting designers and 15 lighting brands will form a cross-industry team to co-create and display a series of light art works with visual impact and profound cultural significance. The "Cultural & night tourism forum" will be organised in hall 3.1, inviting municipal supervision authorities, project owners, investment representatives, night tourism planners and designers, new media artists, commercial operators and more. Speakers will discuss the integrated development of cultural tourism from the perspective of the entire supply chain.
Activities include:
2022 Light art and night tourism development forum
2022 Light art forum and the 2nd light art exhibition awards
Urban renewal and lighting environment development forum
Digital art and cultural & night tourism forum
Stadium lighting technology forum
"Cultural & night tourism to advance rural revitalisation" forum
Celebrating its 10th anniversary in 2022, "Alighting award ceremony" will present a series of awards in hall 5.1. Events include:
Alighting award ceremony and the Alighting forum 2022
"New era, New opportunity" – Alighting award ceremony and new branding strategy conference 2022
Lighting applications of human factors intelligence conference and the top 100 smart lighting brands awards
Greater Bay Area smart ecosystem conference and smart ecosystem awards 2022
Greater Bay Area healthy lighting innovation forum 2022
Brand collection – Showcasing the entire supply chain

The brand collection aims to explore the mutually beneficial cooperation between upstream and downstream lighting sectors, enhance the cooperation between lighting companies, and create opportunities for the entire industry. Participants include:
Landscape and smart city: Unilumin, HPWinner, MTC, Blueview, Tiege, JeeYee, Everbright Environment, ZZTY, ZK-Link, Haoyang, Watron, SNC, FYT, Yaham, Gonon and Cedar.
LED drivers and power supplies: Inventronics, Mean Well, Euchips, MOSO, Chuanglian, DONE, Lifud, Kegu, Fahold, Powerland, Youte, Anhui, Pusisat, Snappy and Sosen.
LED chips packaging: Kinglight, Nationstar, Ledestar, Lightning, HSG, H-Great, Shineon.
Material and lighting devices: Guibao, DOW, Dupont, KMT, Dream-Start and BJB.
Lighting applications and solutions: Rishang, Luxtronik, Mingxue, Kebon, Homi, SPAR, Kinglight and Huapai.
GILE 2022 fringe programme to connect exhibitors with industry associations

GILE 2022 will host a series of fringe events exploring a wide range of topics, covering the latest lighting trends and developments. The fair will work closely with renowned institutions such as the International WELL Building Research Institute™, Shenzhen Interior Designers Association, Asian Association of Lighting Designers and more. Events include:
Decoding the healthy living lighting environment
The frontier design of light
The 2022 Asian lighting arts symposium
Dual carbon – Carbon neutrality forum
Strategic meeting – Lighting manufacturers' countermeasures under the new normal
Future and life – Home design forum
New space design forum
The 1st circadian lighting and smart elderly care lighting summit
Indoor lighting design forum – Frontiers and practices
Commercial space design forum – Debates on the balance in space and lighting design
City design forum
Design session – Lighting art
The 9th new LED creation conference, the quality of lighting – Healthy lighting, lighting environment
Ms Lucia Wong added: "With the new opportunities presented by technological change, we will live up to our responsibility as a trade fair organiser to build a broader and bolder vision for the lighting industry."
CONTACT US

Foshan Ronse Lighting Technology Co., Ltd.
We are always providing our customers with reliable products and considerate services.
If you would like to keep touch with us directly, please go to contact us